Coronavirus kills 140 Nepalis worldwide
127 died abroad, 13 in Nepal
Significant reduction in the rate of infection abroad
The death and infection rate of Nepalis abroad has come down significantly as of Saturday evening (June 6, 2020) due to the coronavirus (Covid-19) infection, which has spread like an epidemic all over the world. According to the Non-Resident Nepali Association (NRNA), six Nepalis have died of Coronavirus abroad this week and 5,590 have been infected. The infection rate is 75 percent lower than last week.
According to Dr. Sanjeev Sapkota, NRNA's Health Committee Coordinator, four people have died in Qatar this week, one in Kuwait and one in the UK due to Coronavirus. According to the latest statistics of the association, 127 non-resident Nepalis have died due to corona in different countries.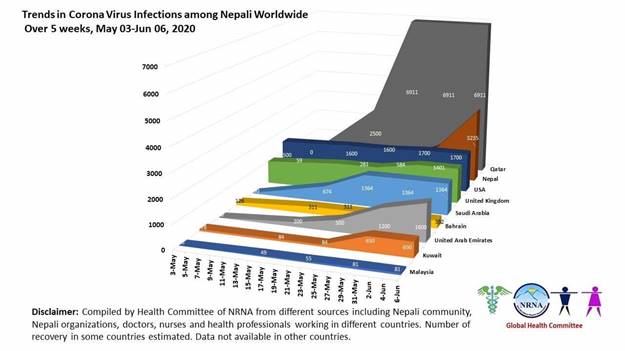 Based on the data collected by the Health Committee, Nepalis in 34 countries of the world have been affected by the Coronavirus.
Nepalis living in 13 countries have lost their lives. Coronavirus has killed Nepalis in the United Kingdom, the United States, the UAE, Saudi Arabia, Bahrain, Kuwait, Qatar, Ireland, Japan, Turkey, the Netherlands, and Sweden.
According to Coordinator Dr. Sapkota, only 14,454 non-resident Nepalis abroad have been infected with Coronavirus.
According to the committee, the number of corona infections in Nepal is 3,233 and 13 people have died from the Coronavirus.
Originally published in Nepali by NRNA.