On August 26, Nepal's Ministry of Culture, Tourism and Civil Aviation made public a one-month flight schedule to resume international flights, both regular and chartered, starting from September 2, 2020. This comes after nearly six months of air travel suspension following proper lockdown protocol to prevent the spread of Coronavirus.
As per the September flight schedule, at least one Nepali airline, and one international airline is scheduled to conduct regular and chartered international flights from Wednesday, Sept. 3.
During this period, 9 foreign airlines (Air Arabia, Air China, China Southern Airlines, Fly Dubai, Korean Air, Malaysian Airline, Malindo Air, Qatar Airways, and Turkish Airlines), and 2 Nepal's international airlines (Nepal Airlines Corporation, and Himalaya Airlines) are set to conduct 58 regular international flights.
Similarly, 27 chartered international flights are scheduled to be conducted by 4 airlines (Himalaya Airlines, Nepal Airlines Corporation, Jazeera Airways, and Salam Air).
Along with the flight schedule, the government also issued a set of protocols, which is to be adhered to by both the passengers, and the airlines while operating these flights.
Only those passengers, who have tested negative for COVID-19 within 72 hours before boarding, and have a print copy or barcode proof of completed CCMC's form would be allowed to board the plane, and the airlines are responsible to ensure the validity of the test, and proper filling of CCMC's form before issuing boarding pass to travellers. 
Fill the COVID-19 Crisis Management Center(CCMC)'s Online Entry form at https://ccmc.gov.np/.
Once the passengers arrive in Nepal, they are required to remain under 14 days self-quarantine in their place of residence, and the Local COVID-19 Crisis Management Center (LCCMC) are required to follow up with the passengers.
Here is the complete September schedule for Regular and Chartered International Flights (All Arrival Dates).
| Date | Day | Foreign Airlines | NAC | Himalaya Airlines | Charter Flights |
| --- | --- | --- | --- | --- | --- |
| 9/2/2020 | Wednesday | Malindo (KUL) | Japan (Narita) | | Himalaya (Maldives) |
| 9/3/2020 | Thursday | Turkish (Istanbul), Cathay Dragon (Hong Kong) | | China (Chongqing) | |
| 9/4/2020 | Friday | Korean Air (Seoul) | | Malaysia (KUL) | Himalaya (Doha) |
| 9/5/2020 | Saturday | China Southern (Guangzhou) | | UAE (Abu Dhabi) | Jazeera (Kuwait) |
| 9/6/2020 | Sunday | Air Arabia (Sharjah) | UAE (Dubai) | | NAC (Jeddah) |
| 9/7/2020 | Monday | Qatar (Doha) | Malaysia (KUL) | | Himalaya (Doha) |
| 9/8/2020 | Tuesday | Fly Dubai (Dubai) | UAE (Dubai) | | NAC (Dammam) |
| 9/9/2020 | Wednesday | Malaysian Airline (KUL) | Hong Kong | | Himalaya (Doha) |
| 9/10/2020 | Thursday | Turkish (Istanbul) | | China (Chongqing) | Himalaya (Dammam) |
| 9/11/2020 | Friday | Korean Air (Seoul) | | Malaysia (KUL) | Salam Air (Oman) |
| 9/12/2020 | Saturday | China Southern (Guangzhou) | | UAE (Abu Dhabi) | NAC (Jeddah) |
| 9/13/2020 | Sunday | Air China (Chengdu) | UAE (Dubai) | | Jazeera (Kuwait) |
| 9/14/2020 | Monday | Qatar (Doha) | Malaysia (KUL) | | NAC (Kuwait) |
| 9/15/2020 | Tuesday | Fly Dubai (Dubai) | UAE (Dubai) | | NAC (Doha) |
| 9/16/2020 | Wednesday | Malindo (KUL) | Japan (Narita) | | Himalaya (Kuwait) |
| 9/17/2020 | Thursday | Turkish (Istanbul), Cathay Dragon (Hong Kong) | | China (Chongqing) | |
| 9/18/2020 | Friday | Korean Air (Seoul) | | Malaysia (KUL) | Himalaya (Dammam) |
| 9/19/2020 | Saturday | China Southern (Guangzhou) | | UAE (Abu Dhabi) | Jazeera (Kuwait) |
| 9/20/2020 | Sunday | Air Arabia (Sharjah) | UAE (Dubai) | | NAC (Riyadh) |
| 9/21/2020 | Monday | Qatar (Doha) | Malaysia (KUL) | | NAC (Doha) |
| 9/22/2020 | Tuesday | Fly Dubai (Dubai) | UAE (Dubai) | | NAC (Doha) |
| 9/23/2020 | Wednesday | Malaysian Airline (KUL) | Hong Kong | | Himalaya (Dammam) |
| 9/24/2020 | Thursday | Turkish (Istanbul) | | China (Chongqing) | Himalaya (Doha) |
| 9/25/2020 | Friday | Korean Air (Seoul) | | Malaysia (KUL) | Salam Air (Oman) |
| 9/26/2020 | Saturday | China Southern (Guangzhou) | | UAE (Abu Dhabi) | Jazeera (Kuwait) |
| 9/27/2020 | Sunday | Air China (Chengdu) | UAE (Dubai) | | NAC (Doha) |
| 9/28/2020 | Monday | Qatar (Doha) | Malaysia (KUL) | | NAC (Jeddah) |
| 9/29/2020 | Tuesday | Air Arabia (Sharjah) | UAE (Dubai) | | NAC (Doha) |
| 9/30/2020 | Wednesday | Malindo (KUL) | Japan (Narita) | | Himalaya (Dammam) |
List of protocols issued by the Nepal Government to resume International Flights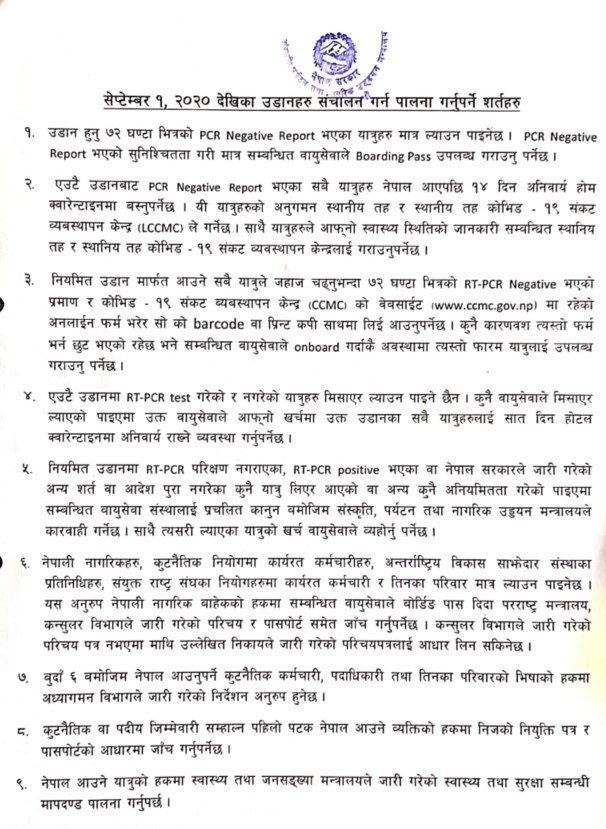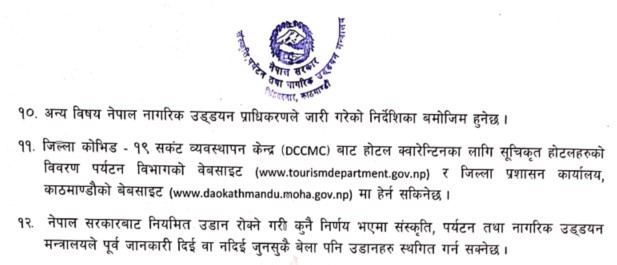 Useful Links:
Flights Schedule from Nepal's Ministry of Culture, Tourism & Civil Aviation
COVID-19 Crisis Management Center (CCMC) form