Note : Since NRNA didn't issue any update for the week of June 28 – July 4, there is no Nepal's Coronavirus Update #12 from NRNA.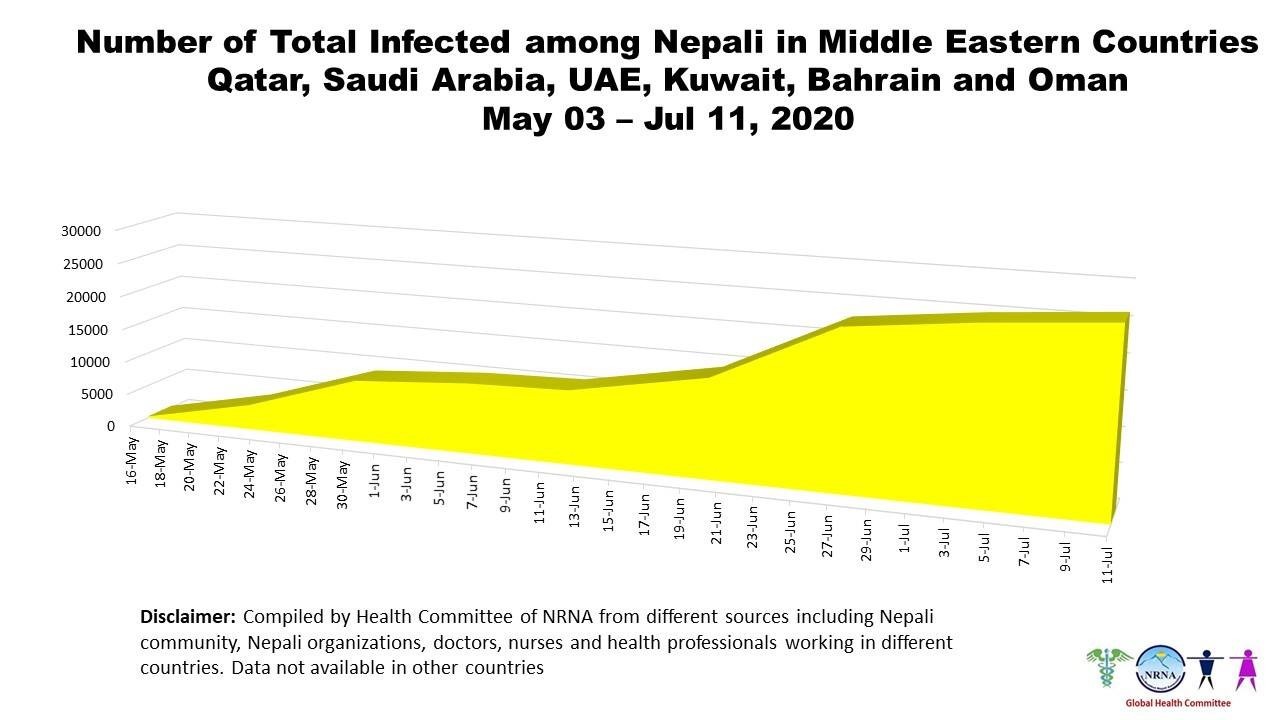 Highlights
– 92 percent of those infected abroad have recovered
– 26,396 Nepalis rescued
– 157 bodies were brought
This week, there were no deaths reported due to Coronavirus among Nepalese living abroad.
According to the Health Committee under NRNA, the number of deaths and infection rates due to the coronavirus abroad has been declining significantly. According to the association, 92 percent of Nepalis infected with coronavirus are free from coronavirus infection.
According to the Health Committee, as of Saturday evening, 27,362 out of 29,624 Nepalis around the world have been free from coronavirus infection.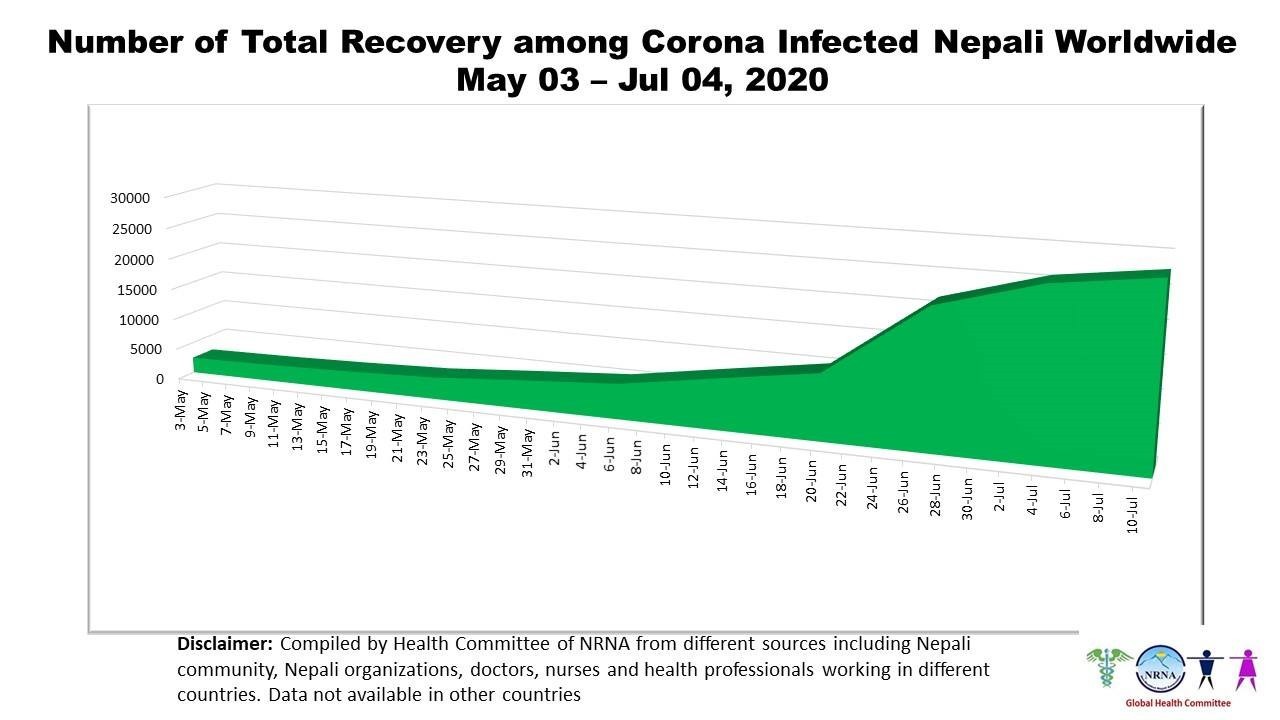 According to Dr. Sanjeev Sapkota, Non-Resident Nepali Association (NRNA)'s Health Committee Coordinator, this week the rate of infection among Nepalis living in Australia, Poland, Qatar, Saudi Arabia, and other countries have seen a normal increase.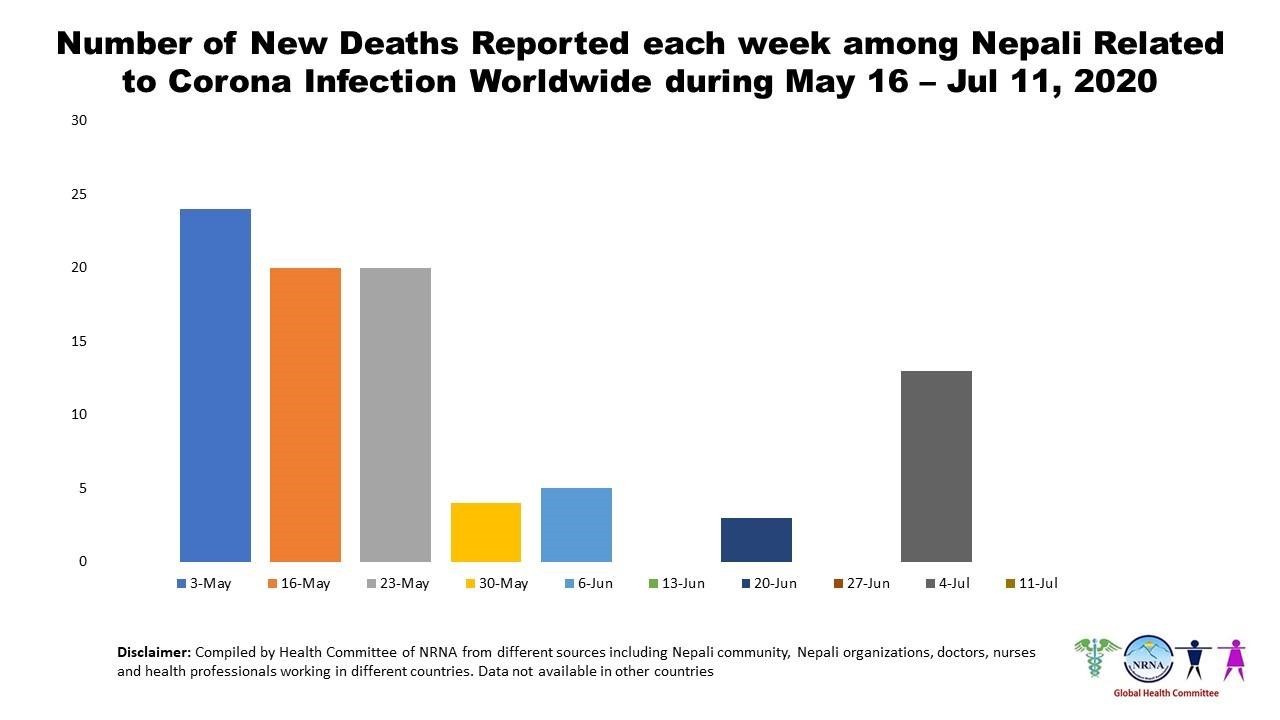 According to the committee, coronavirus has spread among 46,346 Nepalis with a death toll of 181 worldwide, including Nepal. According to the Health Committee, 35,804 out of 46,346 Nepalis recovered from coronavirus.
Till last week, 143 Nepalis in 14 countries have died due to coronavirus. Expressing concern over the ongoing coronavirus infection in other countries besides Nepal and the Middle East, the NRNA Health Committee has urged to strictly follow the health-related information issued by the local government.
Rescue of 26,396 Nepalis
At the initiative of the Government of Nepal, diplomatic missions, and the Non-Resident Nepali Association, 26,396 Nepalis have been rescued from 23 different countries.
They have been rescued through 149 flights of various airlines. So far, 5,527 Nepalis have been rescued from the United Arab Emirates (UAE) on a rescue flight that began in mid-May. A total of 5,243 Nepalis, who were stranded, and had received amnesty, have been rescued from Kuwait. Similarly, 4,030 Nepalis were rescued from Saudi Arabia, 3,053 from Malaysia, and 2,884 from Qatar.
Similarly, 18 from Afghanistan, 483 from Australia, 26 from Myanmar, 492 from Japan, 326 from Thailand, 476 from South Korea, 841 from Bangladesh, 709 from the Maldives, 5 from Sri Lanka, 146 from Singapore, 89 from Hong Kong, 567 from Bahrain, 423 from the USA, 229 from the UK, 127 from Israel, and 105 from China have returned home. On Saturday alone, 1,381 Nepalis have returned home from different countries.
157 bodies were brought to Nepal
During this period, 157 bodies have been brought to Nepal and handed over to their families. Of the 406 Nepalis, who lost their lives abroad due to various reasons, 146 have been buried in the country with the consent of their families. 109 bodies are yet to be brought to Nepal from abroad.
COVID-19 High-Level Committee, Non-Resident Nepali Association
Originally published in Nepali by NRNA.