This week, three Nepalis living abroad have died due to Coronavirus infection. Although the number of deaths due to the infection was zero last week, three more have died this week. Along with this, the number of Nepalis who have lost their lives abroad in the last nine weeks has reached 130. All three who died this week were from Qatar. 
According to Dr. Sanjeev Sapkota, Non-Resident Nepali Association (NRNA)'s Health Committee Coordinator, this week more than 10,000 Nepalis living abroad have recovered from coronavirus infection. Nepalis living in 18 countries, including Denmark, Netherlands, Australia, Malta, Japan, Myanmar, Poland, Russia, New Zealand, Canada, Finland, Ireland, Germany, Sweden, France, Belgium, Hong Kong, South Korea are free from coronavirus infection.
According to the data collected by the Health Committee under the Association, so far 17,792 Nepalis living abroad have been infected with the coronavirus. According to Dr. Sapkota, this week, four Nepalis living in African countries have been confirmed to be infected with the coronavirus. Coronavirus infection has been confirmed in 26,402 Nepalis in 35 countries around the world, including 8,605 in Nepal.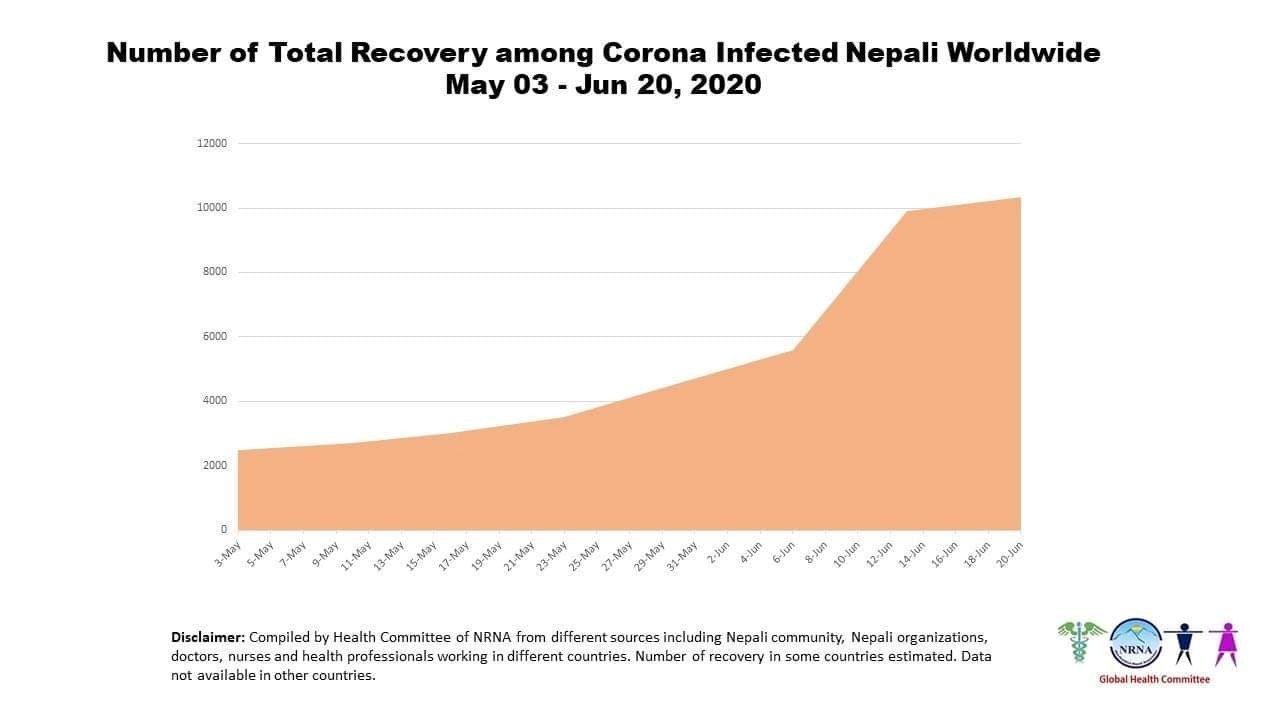 So far, Nepalis living in 13 countries, which includes the United States, the United Kingdom, UAE, Saudi Arabia, Bahrain, Kuwait, Qatar, Ireland, Japan, Turkey, Netherlands, and Sweden have died due to coronavirus infection.
Rescue of 3,108 Nepalis stranded abroad due to the Coronavirus
Following the announcement of lockdown to stop the spread of COVID-19, rescue efforts have been underway to help Nepalis living abroad. The government's repatriation campaign has intensified since June 5. In the last three weeks, 3,108 Nepalis have returned home under the joint initiative of the National Committee of the NRNA and the Diplomatic Mission of the Government of Nepal.
118 Nepalis have returned from Malaysia, 317 from UAE, and 898 from Kuwait. Thirteen people were rescued from Japan, 18 from Afghanistan, seven from Hong Kong, 26 from Myanmar, and 11 from Australia.
Similarly, 258 Nepali have returned to Nepal from Bangladesh, 313 from Oman, 305 from the Maldives, 146 from Cambodia and Singapore, and 248 from Thailand. Similarly, 44 Nepalis have returned from Qatar, 5 from Sri Lanka, 153 from Saudi Arabia, and 228 from South Korea.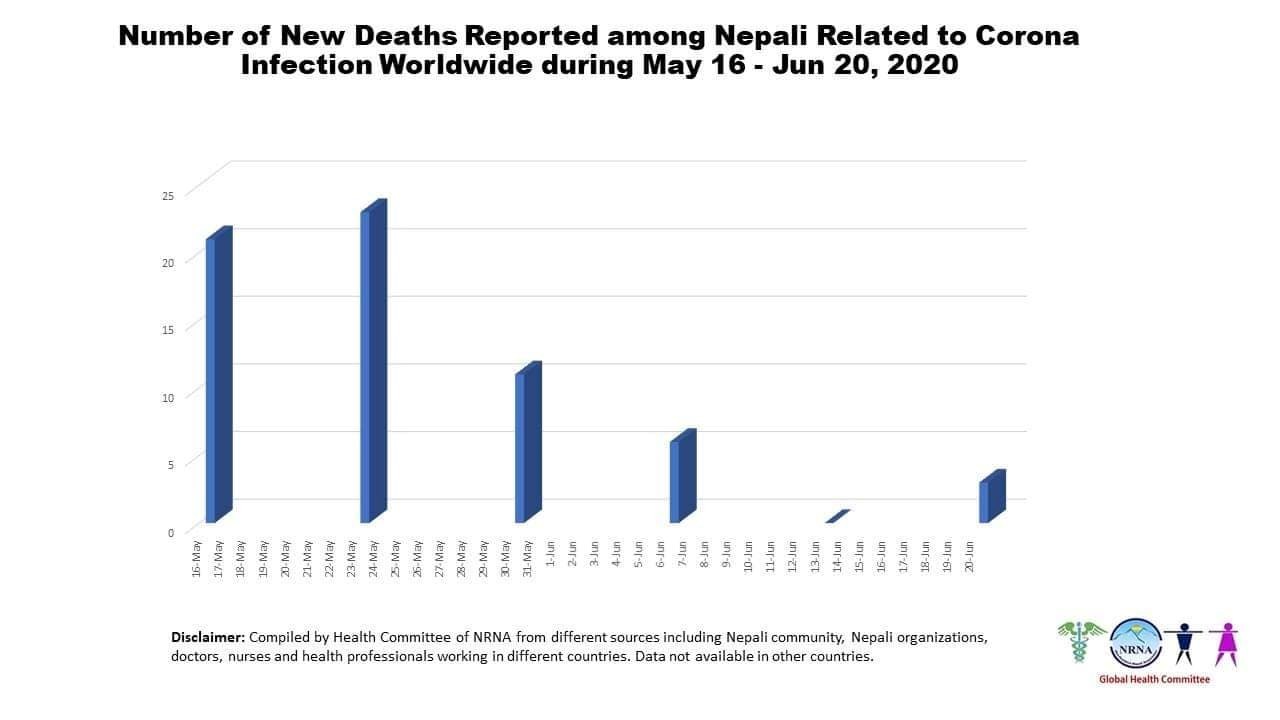 The bodies of 40 Nepalis were taken to Nepal
Meanwhile, the process of bringing the bodies of Nepali, who died abroad, to Nepal has begun. The bodies of 40 Nepalis, who died due to various reasons abroad during the lockdown, have been brought to Nepal. The bodies were brought to Nepal by Friday after chartered flights were started for the repatriation of Nepalis. So far, 20 bodies have been brought from Qatar, 11 from Malaysia, six from Kuwait, one from Oman, UAE, and Saudi Arabia. The families of 114 of the 318 victims have also given permission for burial in the destination country. Apart from this, the management of 164 bodies is still pending. The NRNA has already given instructions to the concerned National Committee for their funeral and management.
The bodies were stranded abroad for months when international flights were canceled due to the coronavirus. 
Health Committee
Non-Resident Nepali Association.
Originally published in Nepali by NRNA.