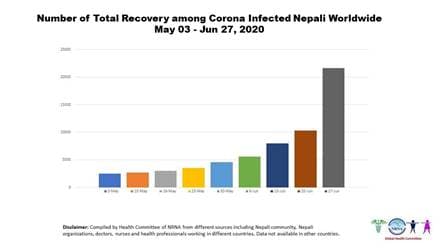 This week, there were no deaths reported due to Coronavirus among Nepalese living abroad. As of last week, 130 Nepalis have died due to Coronavirus in 13 countries.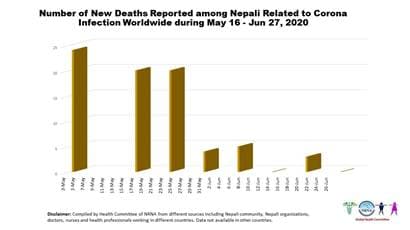 According to Dr. Sanjeev Sapkota, Non-Resident Nepali Association (NRNA)'s Health Committee Coordinator, more than 18,700 Nepalis living abroad have recovered from Coronavirus infection.
According to the data collected by the Health Committee under the Association, so far 26,227 Nepalese living abroad have been infected with the Coronavirus.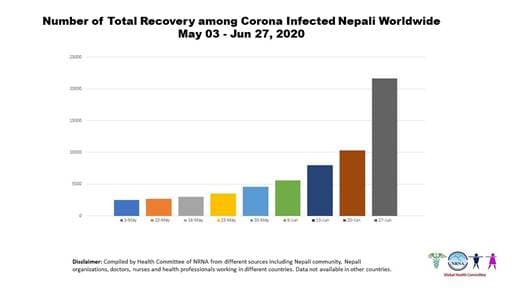 According to the Health Committee, in the last two weeks alone, more than 8,000 Nepalese have been infected in the Middle East. Out of the 92,000 Coronavirus cases in Qatar, 20 percent of the infected are Nepalese.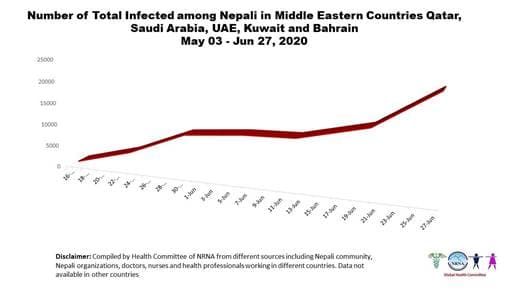 According to Dr. Sanjeev Sapkota, for the first time this week, five Nepalese living in South Africa have been confirmed to be infected with the coronavirus. A total of 10 cases of coronavirus among Nepalese has been reported from Africa.
According to the Health Committee, this week 15 Nepalese living in Bangladesh have contracted the virus, while another 150 Nepalese have been infected in India.
Coronavirus infection has been confirmed in 38,536 Nepalis in 37 countries around the world, including 12,309 in Nepal. In Nepal, 28 lives have been lost to the pandemic.
So far, Nepalis living in 13 countries including the United States, United Kingdom, UAE, Saudi Arabia, Bahrain, Kuwait, Qatar, Ireland, Japan, Turkey, Netherlands, and Sweden have died due to Coronavirus. On the other hand, Nepalese living in 19 countries including Denmark, Netherlands, Australia, Malta, Japan, Myanmar, Poland, Russia, New Zealand, Canada, Finland, Ireland, Germany, Sweden, France, Belgium, Hong Kong, South Korea, and Malaysia have recovered from Coronavirus.
11,371 Nepalese repatriated
11,371 Nepalis from abroad (not including India) have been repatriated. A total of 11,371 Nepalese, who were stranded abroad during the coronavirus crisis, have been repatriated from different countries between June 4 and June 27.
How many returned from which country?
The rescue effort of Nepalis stranded abroad is in full swing. For this, the National Coordinating Councils of the NRNA's in different countries are cooperating and coordinating. Nepalis have returned home from different countries from June 5 to June 27.
As of Saturday, 2,002 Nepalis have returned home from Kuwait. Similarly, 2,017 from UAE, 1,218 from Saudi Arabia, 921 from Malaysia, 815 from Bangladesh, 638 from Qatar, 604 from the Maldives, 492 from Japan, 269 from Australia, 420 from Bahrain, 326 from Thailand, 313 from Oman, 483 from the United States, 228 from South Korea 146 from Singapore, 229 from the United Kingdom, 89 from Hong Kong, 72 from Pakistan, 26 from Myanmar, 18 from Afghanistan, and 5 from Sri Lanka have returned home.
The NRNA has instructed its National Coordinating Council abroad to coordinate and cooperate with the Embassies of the destination countries for the assistance and rescue of stranded Nepalis, said Kumar Pant, President of the NRNA. Accordingly, the NRNA has stated that various relief works are underway for the homeless abroad.
87 bodies were brought to Nepal
The bodies of 87 Nepalis, who died due to various reasons abroad during the lockdown, have been brought to Nepal. So far, 20 bodies have been brought to Nepal from Qatar. Similarly, 20 bodies have been brought to Nepal from Saudi Arabia, 31 from Malaysia, 7 from Kuwait, 5 from UAE, 3 from Bahrain, and one from Oman. Besides this, 120 bodies are still abroad, to which the NRNA has been repeatedly drawing the attention of the Nepal Government to bring them home.
COVID-19 High-Level Committee, Non-Resident Nepali Association
June 28, 2020
Originally published in Nepali by NRNA.